LDC began managing the Pueblo's gaming operations with completion of the Dancing Eagle Casino in 2000. Shortly after the opening of Dancing Eagle, LDC opened Casino Xpress, a small slot operation located at the Rio Puerco Exit. Casino Xpress is part of the Route 66 development, and became the anchor for the current travel center, convenience store, and DQ Grill and Chill that was opened adjacent to the Xpress facility. LDC expanded its gaming operations in 2003 with completion of the Route 66 Casino.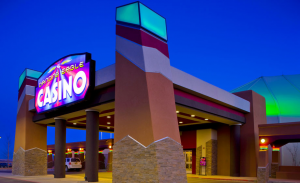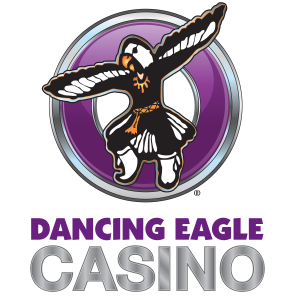 Dancing Eagle Casino, LDC's first gaming enterprise, opened in 2000. It is located off of Interstate 40 at Exit 108, approximately 22 miles east of Grants, New Mexico. It features amenities for the traveler or commercial trucks passing through on I-40. The casino has over 500 slots, video poker machines, keno slots, a full service restaurant seating 160 guests and Café 108 snack bar and entertainment venue. The property accommodates parking for 500 vehicles and 350 semi-trucks.
In 2003 Dancing Eagle added a restaurant and 180 slots. Then in 2009 opened an additional 25,000 square feet of casino space along with Café 108, a snack bar and live entertainment venue. During the 2009 expansion the entire casino was refurbished with a new players club, casino cashier, bathrooms, wall treatments, carpet and soffits.
Dancing Eagle Casino offers a 30-space RV Park including five pull-through spots with full hook-up at each site. The RV Park is located in the parking lot adjacent to the casino entrance. Propane service is also available.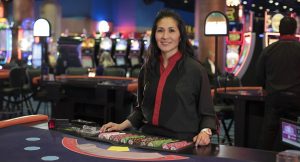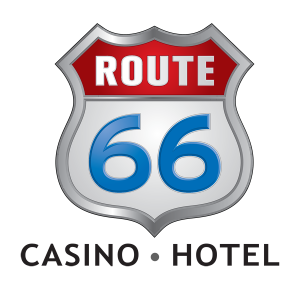 LDC increased its gaming operations with the opening of Route 66 Casino, a 158,000 square foot facility, in September 2003. Route 66 Casino Hotel is located 17 miles west of downtown Albuquerque at Exit 140 off of Interstate 40. The casino is themed with Route 66 memorabilia and offers slot and video poker machines, table games, a bingo hall with snack bar, poker room, four restaurants, a 154-hotel, events center, and RV Resort.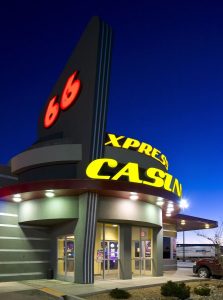 Casino Xpress opened during the construction of Route 66 Casino as a temporary gaming facility. Due to high customer demand, Casino Xpress has remained open since the completion of the Route 66 Casino. It offers 130 slot machines, is located adjacent to the Route 66 Casino Hotel and the Route 66 Travel Center.