Rebuilding Together, a national nonprofit, teamed up with Lowe's to provide critical repairs and renovations to three homes and build a playground in the Village of Laguna on the Pueblo of Laguna in New Mexico.  More than 160 Lowe's Heroes employee volunteers from area stores and the Albuquerque customer support center volunteered on April 23-24 to provide critical repairs, accessibility modifications and other safety improvements as part of a $90,000 Lowe's grant. In addition, Rebuilding Together and Lowe's partnered with Carter's Kids to build a new playground for Pueblo of Laguna residents.
Laguna Development Corporation is also committed to bettering the livelihood of the Pueblo of Laguna, so when we heard about the plans Rebuilding Together had for the Pueblo, we could not resist the opportunity to help. To support the effort, LDC catered lunch for all the volunteers and worked with local television stations to bring media attention to this philanthropic event.
The Ribbon Cutting ceremony was held on April 24.  Pueblo of Laguna Lt. Governor Harry A. Antonio, Jr. was the speaker for the event.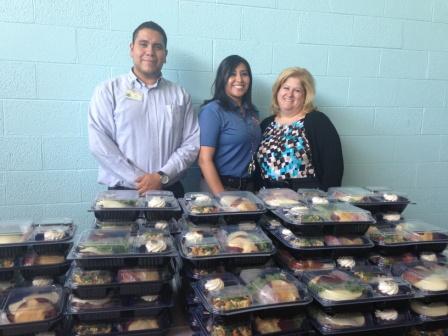 Photo: LDC employees serving lunch to volunteers. Left to Right: Aldo Davila, Banquets Captain; Erline Correa, Banquets Sales Representative; Judith Jaramillo, Banquets Sales Operation Manager