Laguna Acoma High School (LAHS) Culinary Art students won the "People's Choice First Place Best Show Piece" at the Chocolate Fantasy Gala held at the Sandia Resort Casino on March 8, 2014. Mentored by LDC's Executive Chef, Gilles Desnous, students worked on the award winning sculpture for two weeks as they learned details about working with chocolate. This year's event theme was Frozen in Time…A Chocolate Ice Age.
Participants had to design a chocolate sculpture based on the event theme, and provide samples for guests, both of which were judged during the Chocolate Competition. LAHS students sculpted a dragon adorned with chocolate shards, flowers, and butterflies. "At first the students could not envision how the showpiece would look, but as the days progressed they started to see how the dragon was coming together. It was an amazing two weeks and the students were very thankful," commented Mary Cheresposy. The final product was a true piece of art and 100% edible. This was a huge accomplishment for the LAHS culinary students. This was the first time they had entered a competition of this caliber. They vied against some of the best chocolatiers in New Mexico and proved to be a top contender in chocolate design.
The Chocolate Fantasy event was a kick-off to the recently announced LDC internship program for LAHS students. Mary Cheresposy, LDC Tribal Programs Manager, and Gilles Desnous, LDC Executive Chef, spoke to the classes at LAHS about a new summer student internship LDC is planning to launch this summer. The program is available to 10 students who will work as paid interns at LDC. The program is geared toward preparing students for positions within LDC. "We are committed to the need for continued professional growth and development of LAHS students; this program will give students hands-on training and real life experience in high demand positions," said Cheresposy. The students will have the opportunity to earn program hours. Students that successfully complete the program will receive a certificate. The program has strict requirements including maintaining a 3.0 grade point average. While in the program students will be treated like LDC employees. They will participate in new hire training and will be held accountable for upholding LDC's core values. LDC plans to evaluate students on their professionalism, attendance, grooming, attitudes, and skills learned. The interns will receive joint evaluations from mentors and their teachers. Students will intern at Dancing Eagle Casino or Route 66 Casino Hotel in culinary arts or hospitality positions. The students will learn ServeSafe rules and customer service.
"This type of program should be a vision of every business leader. Preparing our youth for the working world is the key to our success and theirs," said Jerry Smith, LDC President and CEO.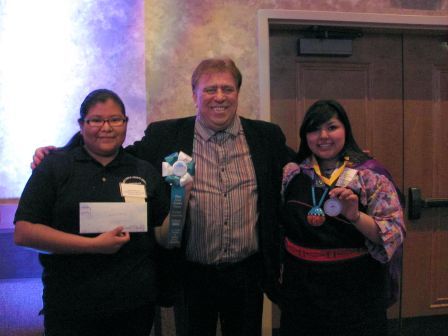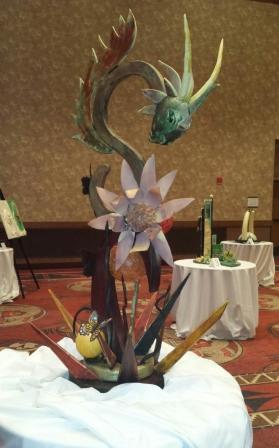 Caption: Left to Right: Sidney Sanchez, Gilles Desnous, and Emily Analla