The Route 66 Casino Hotel Poker Room will be hosting one of the 17 nationally televised Heartland Poker Tour (HPT) events in 2012. The Heartland poker tour is airing in 100 million homes in the United States and 20 countries in Europe. Satellite tournaments started in March and are being held every Wednesday at 7 PM and Saturdays at 9 PM. The buy-in amount for these satellite events is $70 per person and includes a cash prize pool in each tournament. Three seats are awarded from the Route 66 satellites into the HPT Main Event held in July 2012. Guests that win one of 38 satellite tournaments will get into the finals held on July 14th, 2012. If a guest finishes in the top three in the final tournament and they will be invited to the HPT main event.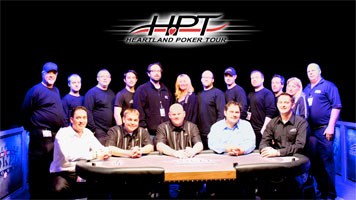 Photo: The Heartland Poker Tour Family
Since 2005, the Heartland Poker Tour has become one of the significant players in the tournament poker world. Considered one of the leading "minor" circuits in the game today, the HPT has been able to have considerable success while providing opportunities for many players to hone their game and move to the next level. The Heartland Poker Tour has been around for seven years, but with low buy-ins, growing prize pools and fields dominated by recreational players, the HPT has become one of the best tournament values in the US. The tour has had more than 60,000 unique participants in its history, and according to co-founder Todd Anderson 80 percent of that number is represented by recreational poker enthusiasts.
From day one the Heartland Poker Tour has taken a grassroots approach to running poker tournaments. The HPT has partnered with smaller regional casinos to offer recreational players an affordable chance to play poker for big money, on television. Heartland's first season saw seven events across Minnesota and Wisconsin. In 2011 the tour grew to 15 main events, a charity event and a Pro-Am Qualifier to a $20,000 Epic Poker League event, all spread over nine states. Using a unique television syndication model that allows networks and stations to pick up the show virtually for free, Anderson and co-founder Greg Lang have run more than 90 events, awarded over $30 million in prizes and produced roughly 170 hours of content.
"I think a big part of why it's working is because we really try to foster an environment where people get together to have fun, and poker is the thing that's bringing them together," said Anderson. For details in regards to the Route 66 satellite tournaments please call the Route 66 Poker Room at x7920. For official rules and Heartland Poker tour locations please visit their website at www.hptpoker.com.
*Source: www.hptpoker.com & www.pokerlistings.com