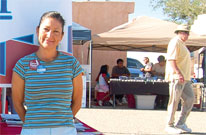 Laguna Development Corporation's newest Board member Debra Haaland shows her commitment to tribal issues by working a booth during the Laguna Feast in support of the importance of voting. Debra serves as the Pueblo Field Director for Vote New Mexico, in this role she is working to increase voters on all the Pueblos so that the Native American vote is heard, especially when in comes to electing representatives and officials that have the ability to change the future for Laguna and other tribes.
While in law school at UNM, Debra was instrumental in passing SB 482, which gave in-state college tuition to enrolled members of New Mexico tribes regardless of their residency. As an enrolled member, Debra is extremely active in her Pueblo of Laguna on political, educational, and community issues, including having served on the Laguna Election Board for the course of two election cycles. She is currently a free-lance writer, and serves as Vice President and administrator for J.D. Haaland Construction, Inc, an Indian-owned small corporation that builds custom homes on the central coast of California, and contracts for projects with various Tribally Designated Housing Authorities.
Laguna Development Corporation is pleased to have Debra Haaland as our newest board member, sharing her passion and commitment for Pueblo of Laguna through everything
she does.