The New Mexico Restaurant Association held it's annual Hospitality Industry Awards at the Albuquerque Marriot Pyramid, where over 500 industry leaders gathered to honor excellence in the hospitality industry. There were 5 employees from Laguna Development Corporation that were nominated for awards at the event, including LDC Chief of Food & Beverage Jorge Brasil who was nominated for Manager of the Year, Executive Chef Kenneth Williams nominated for Chef of the Year and Route 66 Banquets Manager Ryan Westerman, Sous Chef Cordell "Bo" Bomar and F & B Buyer Laura Sanchez were all nominated for Employee of the year.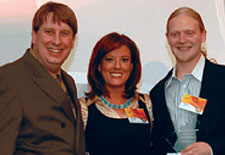 Image: Ryan Westerman (far right) receives the Employee of the Year Award at the New Mexico Restaurant Association banquet.
Employee of the Year is NMRA's most important award because it recognizes the front-lines employees who make or break a restaurant establishment. LDC's Ryan Westerman walked away with the Employee of the Year Award for his tireless efforts in the Banquets department. Ryan is always available to help out when needed and sets a strong example for his fellow banquet staff with his dedication to the department and positive attitude.
Congratulations Ryan and all the F & B staff for your commitment to holding a higher standard in the restaurant business with a commitment to providing the best quality, service and value!