Main Street at Route 66 launched a new summer menu, adding to their selection of over 45 breakfast, lunch and dinner selections. Main Street has always catered to the guest who is looking for a wide-variety of menu selections in a comfortable sit-down environment. Whether guests are sitting "outside" on the indoor/outdoor patio or snuggling up to the fireplace inside the restaurant, there is always something to entertain everyone's taste buds.
The new menu remains true to the popular dishes from the previous menu while adding a lot of favor and fare with many new hot and spicy dishes including the Chicken Fuego, featuring a five spice rubbed chicken breast topped with a spice cream sauce. The menu highlights an expanded lunch and sandwich selection distinctly influenced by our favorite cultures including the Cuban Sandwich, New Orleans Muffaletta and New Mexican with Carne Asada, green chile and avocado. Other soon to be favorites include the Ribs and Shrimp with a half rack of double smoked ribs accompanied by peach and apricot BBQ sauces and the Seafood Sauté with pan seared tilapia, rock clams, black mussels and shrimp finished in a white wine cream and spinach sauce with fettuccine noodles.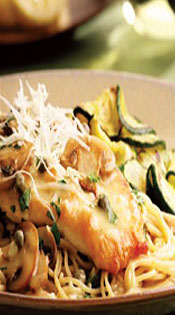 Make sure to stop by and try the new menu, and remember to point guests in the right direction if they are looking to tempt their taste buds with the new and innovative dishes.