It was an unforgettable January for the entire nation with the inauguration of the frst African American President, Barrack Obama. Government Relations Director for LDC, Kathy Gorospe, spearheaded an effort to take a group of Laguna leadership to the inauguration events. With the help of lobbyists and her network of government offcials, Kathy Gorospe along with LDC President Jerry Smith, LDC Board Members Ron Solimon and Margaret Cerno and Pueblo of Laguna Governor John Antonio and Councilman Charles Poncho traveled to Washington D.C. for a week of inauguration activities.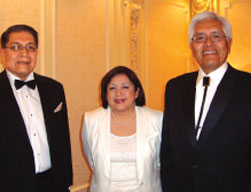 Image: From left to right, LCD President Jerry Smith, Government Relations Director Kathy Gorospe and Board Member Ron Solimon at the American Indian Inagural Ball in Washington D.C.
They attended the American Indian Society 11th Annual American Indian Inaugural Ball, sponsored by Laguna Development Corporation among others. Other events included viewing of the Presidential Swear-in and meetings and introductions with Senator Jeff Bingaman, Congressmen Harry Teague and Martin Heinrich. The group viewed the inauguration in person from the surrounding grounds of the white house. "It was an experience that I was proud to share with my piers and leaders from the Pueblo of Laguna," says Kathy Gorospe as she reminisces about the weeks events. It was a memorable day for all who attended, a day LDC staff and other Laguna Tribal Members will remember and share for years to come.