Janis Delaney, Hotel & Group Sales Manager for Laguna Development Corporation, recently graduated from the Leadership New Mexico – Connect Program, a program launched in 2007 to develop personal leadership skills, while exploring critical issues facing New Mexico. Janis was among 24 young professionals that were accepted into the Connect Program in the fall of 2008. Participants represent various geographic regions and communities, and are from the public, private, government and non-proft sectors. The program consisted of three sessions held in various locations across the State of NM. The curriculum included topics on Health & Human Services, Economic Development, Education and Governmental issues among others.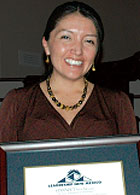 Image: Hotel & Group Sales Manager, Janis DeLaney, receives her diploma from Leadership New Mexico alumn
Janis moved back to Laguna after completing her degree at the University of Florida and pursuing her career in the hospitality industry on the East Coast. She began working for LDC in November of 2007, just in time to launch the opening of the new Route 66 Casino Hotel. Janis brings a wealth of knowledge and experience to LDC from her previous work experience. You can always fnd Janis working long hours at her desk. Despite her busy schedule she is always willing to take time out of her day to help a guest or lend a hand to a fellow employee, an important trait in a leader. With her new found knowledge and experience as a graduate of the Connect Program, Janis is on her way to becoming a top leader in the State of New Mexico. Congratulations!