Route 66 Casino Hotel was recently chosen as a location for shooting footage for a new reality series called Kendra, named after Girls Next Door co-star Kendra Wilkinson. The Girls Next Door followed the lives of three women living a life of luxury in the playboy mansion. The new reality show Kendra is a spin off, showing Kendra's new life outside the mansion with her fiancé Hank Basket, wide receiver for the Philadelphia Eagles and former UNM Lobo football star.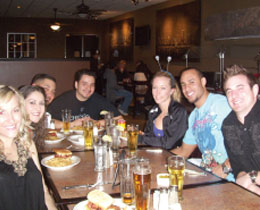 Image:Reality star Kendra Wilkinson and her fiance professional football player Hank Basket enjoy a dinner with friends at Main Street restaurant while shooting the reality series Kendra.
Route 66 Casino Hotel was chosen as a shot location after a special request from football star Hank Basket. Kendra & Hank arrived at Route 66 on February 2nd after a long day of traveling New Mexico, traveling from Clovis and Roswell earlier in the week. Kendra & Hank were flmed arriving at the hotel, being greeted by hotel staff and signing autographs in the hotel lobby. They were served a special late-night dinner by the staff at Main Street restaurant and went on to play in the casino before hitting their rooms for a much needed night of sleep.
Special thanks to the Route 66 Casino Hotel staff that did a great job making a lasting impression on Kendra & Hank as well as audiences across the nation. The Kendra show is produced by Prometueus Entertainment, Alt Loma Entertainment and Fox Television and will be airing on E! Entertainment Television in Spring of 2009.