In an effort to reach out to a hip, fun and sophisticated market, KXX Nightclub partnered with Albuquerque Magazine to make their Hot Singles Party the place to be on Friday, September 26th. In honor of the most popular issue, Albuquerque Magazine throws the party of all parties to preview the new Hot Singles Issue.The event draws over 2,500 of Albuquerque's young professionals to party like rock stars.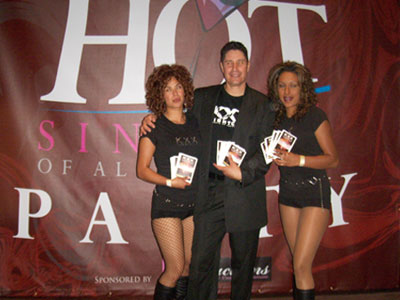 KXX staff members Tanika Williams, Angela Martinez and Charlie Sanchez promoted KXX Nightclub at the Albuquerque Magazine Hot Singles Party.
This year the Hot Singles event was held at the Hyatt in downtown Albuquerque. Each year the feature of the event is the dance party held in the 11,000 sq. ft. grand pavilion ballroom, and who better to host the event than KXX Nightclub. Route 66 Casino Hotel marketing staff worked to bring the energy and excitement of KXX Nightclub to the ballroom at the Hyatt. The room included a billboard size banner with the KXX logo hung from the ceiling above the stage where Justin Case, a KXX DJ mixed and KXX platform dancer entertained the crowd.
The sound and lighting created an experience only found at KXX. The KXX staff worked the floor, inviting the crowd back to the nightclub for their second date, including VIP seating and a bottle of champagne. The event was a success, with thousands of happy singles leaving exhausted from dancing and KXX Nightclub fresh on their minds.