Laguna Development Corporation & Route 66 Casino Hotel kicked off the season as the exclusive casino sponsor of Lobo sports with an eye opening display of activities at the September 13th football match up between UNM Lobos and the Arizona Wildcats. The day started off at 9:00 A.M. as the marketing staff at Route 66 set up for the day's festivities.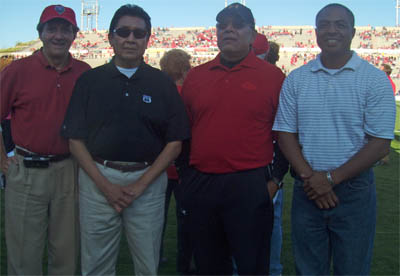 Image: Laguna Development Corporation staff and board members standing on field at University Stadium for a sponsorship recognition ceremony on September 13th. From left to right, Skip Sayre Director of Marketing; Floyd Correa, Chairman; Jerry Smith, President; and Lt. Governor of the Pueblo of Laguna Richard Luarkie.
Route 66 Casino Hotel sponsors the entertainment at the Fan Fest tailgate lot where different local bands perform for 3 hours prior to each home game on a prominent stage in the North East corner of the tailgate lot. A street team comprised of the familiar Route 66 Girls, perused the crowd offering Route 66 Casino Hotel seat cushions and footballs to fans who signed up for the Route 66 email program, while other staff manned the booth in the fan fest lot, offering information on upcoming events and email sign ups.
During the band break, three lucky winners were given a chance to participate in the "Get Your Kicks" Halftime show by catching the three t-shirts that were imprinted with "Get"…"Your"…"Kicks." After the band break, Route 66 Casino Hotel Director of Marketing participated in a ten minute pre-game interview on-air with Scott Stiegler on 770 KKOB while Route 66 volunteers lined up at the entrances preparing to hand out 10,000 hats embroidered with Route 66 Casino Hotel and the Lobo logos. Laguna Development Corporation Board Members were invited on the field to kick off the day by receiving a special sponsorship plaque courtesy of UNM Athletics.
Route 66 was featured in special commercials and announcements on the large Lobo Vision screens in University Stadium including a text campaign offering guests a free lobo pin for participation in the Get Your Kicks Text Club. The days events culminated in the impressive "Get Your Kicks" halftime show where three Route 66 sky divers jumped from a hovering plane into University Stadium, landing on one of the "Get"… "Your"… "Kicks" banners, making one of the three participants the winner of $660.
The 2008 football season is the beginning of a strong partnership between Route 66 Casino Hotel and UNM Athletics. The New Mexico community can look forward to "Getting Their Kicks" together with UNM Athletics at football, men's and women's basketball and soccer, baseball and volleyball events throughout the year.