Laguna Development Corporation (LDC) helped kick off the 2008 football season with support at the Laguna-Acoma fall pep rally. LDC president Jerry Smith, a former Laguna-Acoma Hawk, opened the event with inspiring words about the opportunities that LDC is brining to the athletic program and students at the high school.
Laguna Development Corporation has made steps to create more opportunities for the Laguna-Acoma student athletes through partnerships with the University of New Mexico Lobos and New Mexico State Aggies. In addition to commentary from Jerry Smith and Skip Sayre, LDC Director of Marketing, other LDC staff from all areas came together to create a memorable experience for students at the first pep rally of the year. The Dancing Eagle Marketing team spent days painting large letters that spelled out Hawks and ordered a tear away banner, that would later be used by students at other upcoming school events.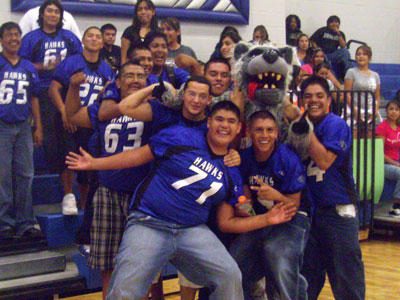 University of New Mexico mascot, Lobo Louie, posses with Laguna-Acoma football team at fall pep rally.
The Human Resources staff pulled together items to raffle during the event and the Route 66 Marketing staff brought music to get everybody excited. The highlight of the event was UNM mascot Lobo Louie, who came out for a special appearance to support the Laguna Hawks. LDC's mission is to create opportunities that benefit the Pueblo of Laguna, and it is through events like the pep rally that show the true commitment of the LDC staff to the success of the local community.