Wednesday, June 25th the University of New Mexico was presented with a trophy for capturing the inaugural Rio Grande Rivalry, presented by Route 66 Casino Hotel. The reception was held in KXX Nightclub and was attended by UNM & Aggie dignitaries including Women's Basketball Coach, Don Flanagan, UNM VP of Athletics Paul Krebs and Aggie special assistant to the Athletic Director, Bump Elliott. In a formal ceremony in front of the press, Laguna Development Corporation President, Jerry Smith, presented the trophy to Paul Krebs, VP of Athletics for UNM.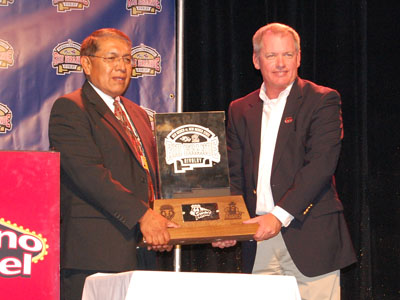 Laguna Development Corporation President, Jerry Smith (left) receives the Rio Grande Rivalry trophy from Paul Krebs, UNM VP of Athletics, during a press conference announcing the winner of the rivalry.
The Rio Grande Rivalry made its debut a year ago. It is a competition between University of New Mexico and New Mexico State athletic teams with points being awarded to the winner of head-to-head competitions during an academic year.
The Lobos won the inaugural award by outscoring the Aggies 16.25 to 6.75. The athletics rivalry between UNM and NMSU dates back more than a century. The first competition between the two institutions was a football game in Albuquerque on Jan. 1, 1894. That was 18 years before the territory of New Mexico was granted statehood in 1912. The first men's basketball game was played Dec. 22, 1904, in Las Cruces. Both UNM and NMSU look forward to the next season and the opportunity to compete in the 2008-2009 Rio Grande Rivalry.