Three years ago, Dancing Eagle Casino launched the Annual Music Fest as a fun way to kick off the summer in June. The 2-day event features 16 local bands from Arizona and New Mexico. The bands compete for cash prizes and 7 hours worth of recording time in Grammy award winning Santa Fe Studios in Albuquerque, NM. The local band Plateros kicked off their career at Music Fest and they are now well know around New Mexico.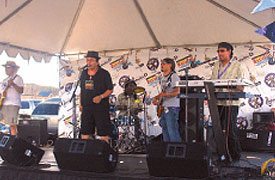 Image: Crowd favorite Native Roots performs at the 2008 Music Fest.
In addition to the competing bands, headliners Rick Trevino and The Blue Ventures will be performing during the 2-day event. Dancing Eagle Casino is happy to announce that this year we will be adding an arts & crafts fair. Both the Music Fest and Arts & Crafts fair will be free of charge and they will be held in the Dancing Eagle Casino parking lot.