Wednesday, June 4th Laguna Development Corporation held the inaugural Laguna Sports Academy Basketball Banquet at the new Route 66 Casino Hotel. The Basketball banquet was the second awards banquet in the inaugural year of the Laguna Sports Academy. The Basketball program was headed up by Kyle James, Health & Wellness Coordinator for LDC/ Head Coach & Franklin Romero, Assistant Coach for the Men's Basketball team. The roster included: Joey Vallo, Jeremy Carrillo, Jacob Riley, Troy Romero, Ben Bautista and Austin Jones.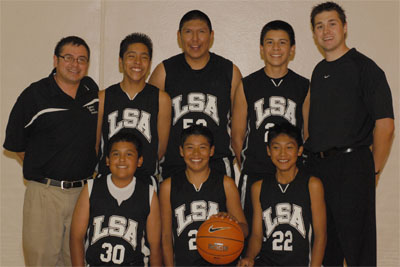 The inaugural basketball team poses at a banquet celebrating the completion of their season.
Emmett Hunt, Head Coach for Laguna Acoma High School, was a guest speaker at the Basketball banquet, providing encouraging words in support of the program. Other special guests in attendance included LDC President, Jerry Smith; LDC Director of Marketing Skip Sayre, who served as master of ceremonies and Governor Antonio who presented the awards. Part of the mission for the Laguna Sports Academy is "To develop quality people which turns into leaders in the community," which also served as the theme of the evening.
Laguna Development Corporation plans on expanding the Laguna Sports Academy to include other sports, and looks forward to growing the program offerings for all age groups. The Laguna Sports Academy is part of a larger LDC initiative to positively impact the health and wellness of the community of Laguna.