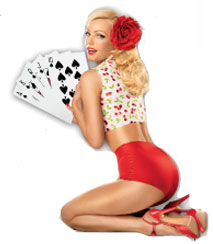 The spirit of the open road with the adventure and excitement of the world-famous Route 66 are the foundation of the new "Miss 66" advertising and promotional campaign launched in April.
The all-new television, radio, outdoor and print campaign modernizes the classic "pin-up" style and captures the spirit of freedom, adventure and endless opportunity you can experience when you "Get Your Kicks" at Route 66 Casino Hotel.
The Miss 66 campaign was designed by recently hired Concussion Advertising, based in Ft. Worth, Texas. The development of the campaign was a three month process, resulting in some of Albuquerque's most unique casino advertising.
"These are difficult times for many businesses and individuals. We hope the Miss 66 campaign will bring some color, style and fun to the New Mexico entertainment scene", according to Skip Sayre, Director of Marketing for LDC.
The television spots are running on all major networks including KOB 4, KOAT 7, KRQE 13 and KASA Fox 2 in addition to a number of cable networks. All television spots can also be found on YouTube under the name "Miss 66 at Route 66 Casino Hotel".