Thursday, September 18th the marketing staff at Laguna Development Corporation displayed an impressive float at the annual Laguna Parade, held in the Village of Laguna. Laguna Development Corporation has participated in the parade for the past five years, in an expression of support and enthusiasm for the community. The parade kicks off the Laguna Feast festivities every year.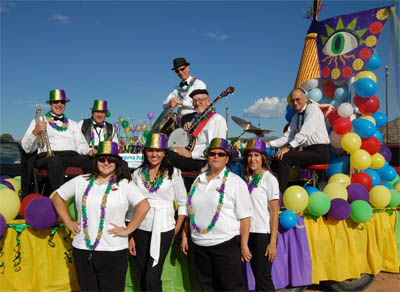 Laguna Development Corporation Marketing staff (From left to right, Maria Sanchez, Janis DeLaney, Emma Mansfield and Maria Esquivel) with band Jazz a la Carte, entertained crowds with live music and candy at the annual Laguna Parade.
The theme for the 2008 parade was Carnivale, and the float was decked out in the famed purple, green and gold and featured a handmade mask and face created from molded foam. In addition to the bright and creative design of the float, a 5-piece band, Jazz a La Carte, entertained parade onlookers with an array of Cajun inspired tunes that had everyone dancing in their seats.
LDC marketing staff threw candy and beads while driving through the village, surround by an impressive display of creativity and excitement from other float participants. LDC looks forward to the 2009 parade and the continued support of the Laguna community through participation in local programs and special events.